Pull-A-Part Pulls Parts For You!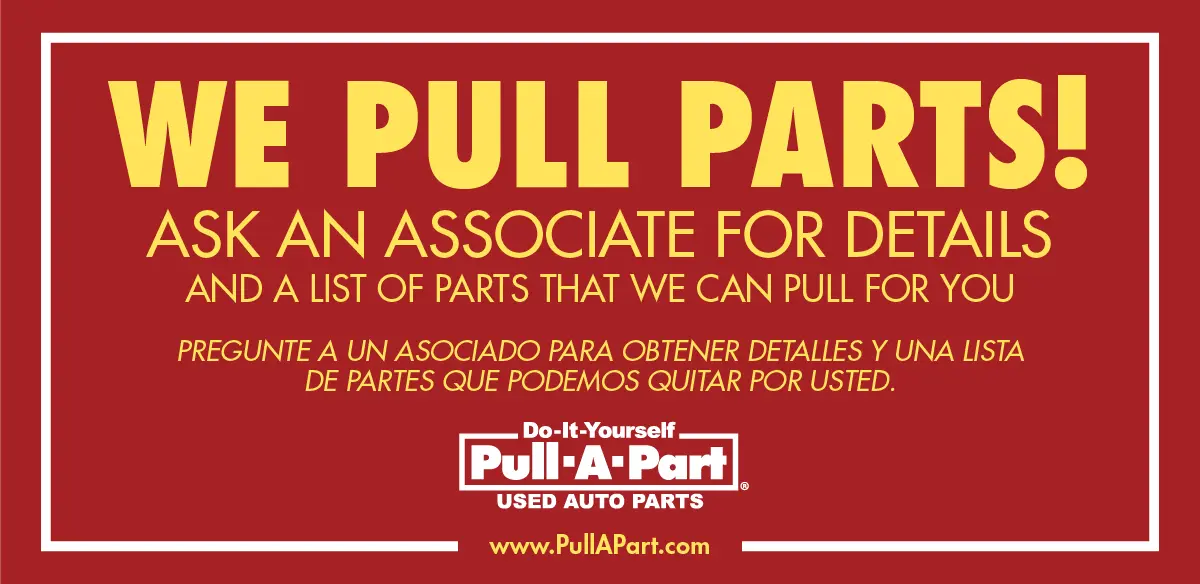 Currently available at all Pull-A-Part locations, as well as the following U-Pull-&-Pay locations: Cincinnati, OH, West Palm Beach, FL, Orlando, FL, Fort Myers, FL, Pittsburgh, PA, and Houston, TX. Ask a retail associate for details during your next visit to the yard.
Pull-A-Part Part Pulling Fees
Part pulling fees listed below are for the cost of pulling the listed part and do not include the cost of the part, sales tax, core charges, and environmental fees.
| Part | Pull Fee |
| --- | --- |
| A/C Compressor | $  25.00 |
| A/C Condensor | $  40.00 |
| A/C Dryer | $  20.00 |
| ABS Control | $  35.00 |
| A-Frame Control Arm | $  40.00 |
| Alternator | $  25.00 |
| Aluminum Wheel (Only) | $  15.00 |
| Axle C.V. Type | $  40.00 |
| Axle (Solid) | $  40.00 |
| Bracket (any) | $  20.00 |
| Brake Calipers | $  25.00 |
| Brake Drum | $  15.00 |
| Brake Drum w/ Backing Plate | $  40.00 |
| Braker Rotors | $  30.00 |
| Bumper Absorber | $  30.00 |
| Bumper Cover | $  35.00 |
| Bumper Filler | $  30.00 |
| Cable-Brake/Clutch | $  20.00 |
| Center Cap | $    5.00 |
| Center Console | $  25.00 |
| Coil Single | $  15.00 |
| Coil Pack | $  15.00 |
| Console Lid | $  10.00 |
| Control Arm | $  25.00 |
| Core Support (Unbolt Only) | $  50.00 |
| Differential Cover | $  15.00 |
| Dash Pad | $  40.00 |
| Dash Bare | $140.00 |
| Door (Car) | $  30.00 |
| Door (Truck/SUV) | $  30.00 |
| Door/Trunk Lock Assembly w/ Solenoid | $  25.00 |
| Door Glass Bare | $  30.00 |
| Door Handle (interior) | $  15.00 |
| Door Handle (outside) | $  15.00 |
| Driver Mirror El. | $  20.00 |
| Drive Shaft | $  60.00 |
| Engine (Any) | $150.00 |
| Exterior Trim Up To | $  15.00 |
| Fan & Clutch Combo | $  40.00 |
| Fender | $  30.00 |
| Fender Inner | $  15.00 |
| Filter Air/Fuel | $  10.00 |
| Fog Lamp | $  15.00 |
| Fuel Line | $  20.00 |
| Fuel Pump | $  20.00 |
| Fuel Tank Sender with Pump | $  50.00 |
| Glove Box Assembly | $  15.00 |
| Glove Box Door | $    5.00 |
| Grill Plastic Bare | $  20.00 |
| Harmonic Balancer | $  80.00 |
| Head | $  80.00 |
| Headlight Assembly | $  30.00 |
| High Pressure Hose | $  20.00 |
| Hood | $  30.00 |
| Hood Latch | $  15.00 |
| Hub (any) | $  40.00 |
| Marker Light or Side Light | $  15.00 |
| Mirror Glass | $  15.00 |
| Mud Flap | $    5.00 |
| Power Steering Pump | $  25.00 |
| Pulley Tensioner w/ Integral Bracket | $  20.00 |
| Rack and Pinion | $  80.00 |
| Radiator Fan | $  20.00 |
| Radiator (w/o Shroud) | $  40.00 |
| Radio | $  20.00 |
| Rear End | $120.00 |
| Rear View Mirror | $  15.00 |
| Running Board | $  30.00 |
| Seat Electric | $  50.00 |
| Seat Manual | $  30.00 |
| Seat Belt Per Person | $  15.00 |
| Seat Belt End Connector | $  15.00 |
| Seat Belt Tensioner | $  15.00 |
| Sensor | $  20.00 |
| Spare Tire Carrier, SUV | $  25.00 |
| Spindle w/ Hub | $  40.00 |
| Starter | $  25.00 |
| Steering Column | $  40.00 |
| Steering Wheels | $  20.00 |
| Strut | $  30.00 |
| Sway Bar | $  30.00 |
| Switch, Turn Signal | $  15.00 |
| Tail light Assembly | $  30.00 |
| Thermostat Housing | $  20.00 |
| Throttle Body | $  20.00 |
| Tie Bar | $  25.00 |
| Tire and Wheel Aluminum | $  15.00 |
| Tire and Wheel Steel | $  15.00 |
| Tire Donut Spare | $  15.00 |
| Trailer Hitch Receiver | $  30.00 |
| Trailing Arm | $  40.00 |
| Transfer Case | $120.00 |
| Transmission (Any) | $120.00 |
| Transmission Floor Shifter | $  25.00 |
| Transmission Line | $  20.00 |
| Truck Bed | $100.00 |
| Truck Bed Rail | $  15.00 |
| Vacuum Pump | $  20.00 |
| Valve Cover or Valley Pan (Steel) | $  20.00 |
| Wire Harness Large | $125.00 |
| Wheel, Aluminum w/ Tire (not fit for road use)   | $  15.00 |
| Wheel, Steel (Only) | $  15.00 |
| Wheel, Steel w/ Tire (not fit for road use) | $  15.00 |
| Windshield Wiper Arm | $  15.00 |
| Window Regulator w/ Motor | $  30.00 |